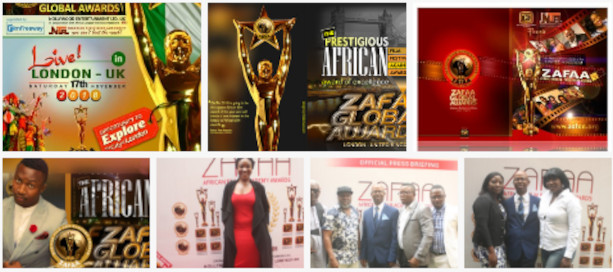 ZAFAA:
The African Film Festival and Academy Awards also known as ZAFAA Global Awards is a highly regarded film event in the UK. ZAFAA Global Awards was held in Lagos Nigeria for the first time in collaboration with Nigerian Television Authority (NTA) and is ready to be hosted in any African Country to promote African Cultural Heritage for the big exchange – the Biggest Tourist Festival is taking place in the global business capital – London UK.
ZAFAA Global Awards from Diaspora's perspective, dedicated to promoting African movies and entertainment industry makers to the outside world. It is the biggest African Film Festival ever that attracts crème de la crème of African International stars outside of Africa, to meet and socially meet-one-on-one, deliberate, network during and after the exhibition of Africa's post-colonial culture the ZAFAA Global Awards is always ready to make it happen again but not without the energy of all of you – the Kingmakers and professional promoters around the world.
ORGANIZERS:
Nollywood Entertainment Limited UK, is a body registered in England & Wales in association with ZAFAA Global Awards, both entertainment companies also registered in Africa to host ZAFAA in London, UK in 2021.
'We introduced the name "NOLLYWOOD" to the Nigerian Film Industry and we promote the African entertainment industry through film festivals and Academy awards
ATTRACTIONS:
– Leading international Actors/Actresses
– The British Film Institute (BFI) or
– Other Partners Training System (On/Offline)
– Film Makers
– Motion Picture Equipment Manufacturers
– Motion Picture Investors
– High-Level Government Functionaries
– Diplomats
– International Media
– Cultural Ambassadors
– Large public
– Grand Finale (with all African Big Show)
THE ACADEMY AWARDS:
• It is the high point of the event
• The Academy Awards is in honour of African filmmakers who have contributed to the development and progress of the African film industry over the years in diverse ways
• It is also to reward actors and actresses who have been outstanding in their performances in films during the year 2021/22/23
• The Award is segmented into Film and Cultural brackets.
Important Notice:
*Entries for the award must be submitted under the stipulated guidelines with the digitalization of online film submission partnership with the Filmfreeway.com company.
1) All Africa movie makers within the film and video spectrum to submit their most recent audiovisual contents produced between the 1st of January 2021 to 30th of November 2022, for consideration under the different categories of the forthcoming 2023 edition of ZAFAA Global Film and Academy Awards for more visit http://zafaa.org
2a) Filmmakers are required to submit their work in DIGITAL copy online through this platform (FilmFreeway) https://filmfreeway.com/zafaaawards/
Or
DIRECTLY FROM ZAFAA GLOBAL AWARDS OFFICIAL WEB PORTAL
2) Fill the film application form at ZAFAA website at http://zafaa.org/filmregister/
and after successful form submission, a copy of the Film in a minimum of 1GB ZAFAA CLOUD DRIVE is provided after a full application is considered. (Call the following numbers for the directive: UK: +44 7958331241 or NGR: +234 8033446000 and WhatsApp messages could be sent via numbers above)
3) ZAFAA Global Awards no longer accept Films in the following formats: VCD, DVD or Flash Drive, and any application received in such formats WILL NOT BE SCREENED or considered for nominations at the ZAFAA Global Film and Academy Awards.
4) Films in Native languages should be subtitled in English. Those without subtitles will not be accepted.
5) *Not more than 120 minutes
6) Ensure compatibility
– Commercials and adverts are not accepted in the entered work
– All non-English language entries must be subtitled, including Pidgin English movies
– Content owners must submit an attestation form or letter of authority from the content owners
– All entries must be watermarked in a way that does not impair viewing during the screening by our Jurors.
– Be informed that Nollywood Entertainment Limited UK organizers of ZAFAA Global Awards is upgraded with multipurpose Studio and Online Android and WebAPP platform for income generation for only partners.
FOR INTERESTED PARTNERS:
ZafaaTV.com or specifically download for ANDROID TV is online 24/7/365 all day long with no limitation entertainment premium/free or subscription online television platform. It is a dedicated TV on the go for moviemakers' advantage, to promote and generate plan-B income and it is a handy promotional medium to the cinemas around the world, and partners are given the opportunity for monetization of their contents.
Zafaa TV is the Real Online African Movie Magic, in addition, to live archived industry movie updates for more call directly to Cyril Robinson at +234-8033446000, +2349094446000.
This is a great opportunity for movie producers to partner with #ZafaaTV for seamless OTT streams for income generation from our pay-to-watch premium ZafaaTV premium Application. For further details, contact any of the following brand executives for marketing brands: United Kingdom – +44.7958331241, +44.7417506649 or Africa – +234.8037866623, +234.8033446000. +234.9094446000
visit our website: http://www.zafaa.org
Like us on https://facebook.com/zafaaflixtv
ADDRESS:
Nollywood Entertainment Ltd UK, Studio C,
Crown Industrial Estate, 71-73, Nathan Way,
London, SE28 0BQ. Tel: +447958331241